I have memories ... of when I was young (not too long ago). When my brothers and sisters and I would participate in the Church Christmas singing/plays. Oh man, I remember how we stunk.. ok, well at least I think that I remember that I stunk at singing. And looking back (so many years ago), I wonder if it was in my head, or if I really was that bad... but the parents and church seem to love it. They would smile and cheer.... I guess Love is blind. Well, isn't it a shame that we don't have any recorded proof of said events?

Well, as you can tell, I am all torn up about that. So in order to not let my kids miss out on this when they grow up, I did take a few vids, and a bunch of pictures.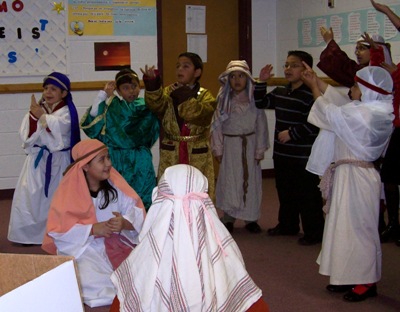 They loved going to the little rehearsals, and practicing their songs. These pics are from the actual performance date, and they are all decked out in their costumes.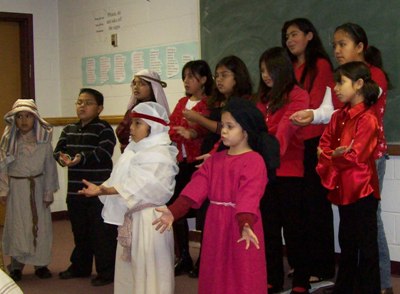 It was all the kids below the Youth Group age, and they all played a part... of sorts. Some were more hams than others, but isn't that always the case.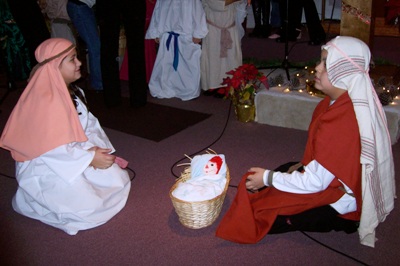 And of course, at the center of any Christmas time play, there is baby Jesus. This year, the role of baby Jesus was played by Raggedy Anne. (I had to google to find out what her name was).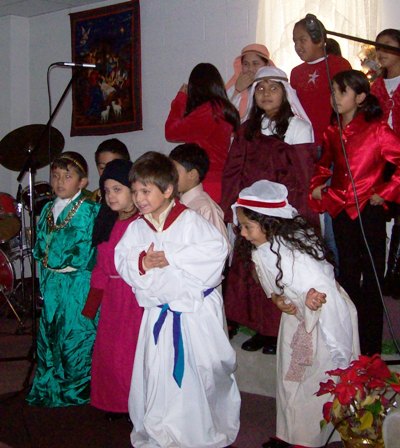 It was a great little play/singing production, and the kids did great. No one crashed and fell... no one ran off screaming... no one was hurt. A win in my book!! And now I have it all documented, and video recorded for posterity. I am sure the kids will appreciate it.
Comments
que bendicion es ver a nuestros hijos,envueltos en las cosas navidenas-biblicas.Mama y yo disfrtutamos mucho cuando ustedes participaban y ahora te toca disfrutarlo a ti.