So some time ago, the kids had convinced us that it was time for a new play set. The little plastic one was no longer holding its amusement for them. So a little over a month ago we bought one of those "build it yourself" play sets from the store (Sam's club). I have had a ton of odd hour work lately... so it took me awhile to put together.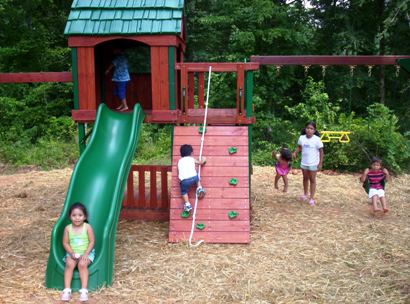 Actually it took about a month. Board by board... piece by piece.... stain it... attach it... but finally it was done. The kids seem to like it.... which makes me happy. Now if only we can grow some grass around it. That will take a little more time. On the 4th of July we had a little barbecue here, and we had a bunch of kids put the play set to the test. I am glad that they did not destroy it or set it on fire....

Comments
1. Ivana Ward said...
Wow! I didn't know you had it in you to do the manual labor!!! I say this with a smile on my face...with love..
Ivana
PS..I need to start making my smart *@@* comments more often!