Paola and I got a chance to get dinner and a movie on Friday night. Our niece Alex was able to come and baby sit for us. OH WHAT BLISS!! To be able to get out ... rest and relax... and have a nice night out. Don't get me wrong. We love our kids... but because we love them... we need a little break away from them so that we don't go crazy and kill them.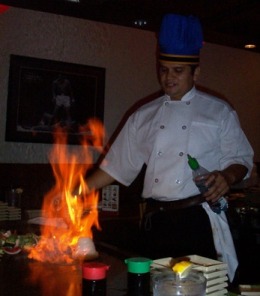 Dinner was great.... they did that Onion volcano that all Hibachi places do.... but this fire was a little bigger than normal... I was a bit too close... and my hair caught on fire!!! .... I dropped to the floor and rolled around and my wife through drinks at me.
Ok... so maybe I did not catch fire.... but I did get really warm from the fire...
:-P
Comments