Wednesday at the school.... the kids had an ice cream social. AN ICE CREAM SOCIAL!!! Why did we never do these cool thing when we were their age? I guess I am just a little jealous since no one takes me out for ice cream anymore... :-(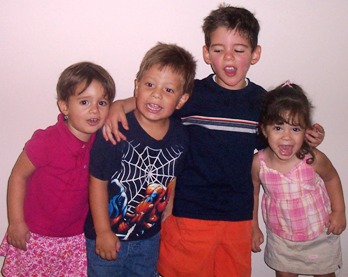 Here is a nice picture of the kids and their friends (Mikaela, Matthew, Diego Jose, and Megan). It is rare to be able to get a picture of these kids not in motion... or fighting/playing But I suspect they were bribed with promises of ice cream if they would just stay still for one picture!!! :-)
Would someone please take me out for ice cream??...no... seriously.
Comments
1. Paola said...
It is truly hard to be able to get a good picture of these angels together...they're too active to stay still. They had a great time and I did too until Matthew dissapeared from my sight and told Diego's dad he had permission to go with them. Icecream was delicious and if you like I would love to take you out for icecream...how about an icecream date this Sunday afternoon? Love you baby! ; )
3. Briam said...
Gracias mi suegra preferida. :-) Ojala puedan venir a visitar, para estar en las fotos tambien. Un abrazo!